Oracle aussi véridique, qui celui d'Apollon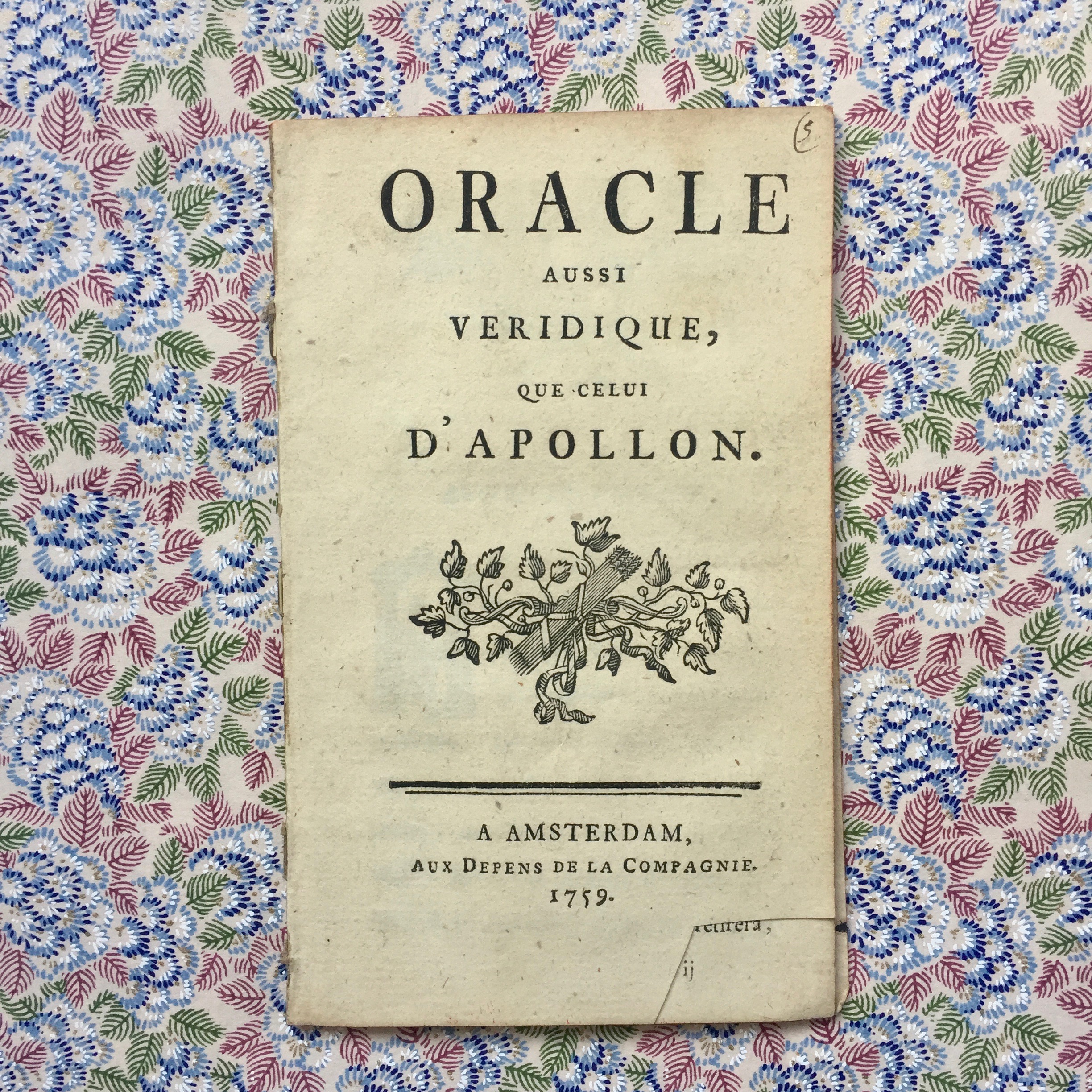 Oracle aussi véridique, qui celui d'Apollon
8vo. Disbound. 22pp. 5 fold-out numerological tables, which lie next to the text when unfolded. Woodcut decorations. Lower corner of first table is defective and missing 3 numbers (20,20,20 - from digitized version at the Bayerische StaatsBibliothek). Lower right corner of title excised. WorldCat lists 6 digital copies in German universities. Previous bookseller notes "not in BL. Ditto Caillet and Yve-Plessis, ditto Graesse" which this bookseller can confirm. Also not noted in the Short Title Catalogue Netherlands (STCN). Mystery book. Very scarce.
"Oracle as truthful as that of Apollo."
Modeled after a German oracle of 1757, the "Devin curieux," and adapted into French. The reader asks a question, assigns a numerological value to each word, draws a cabalistic triangle, and deciphers the answer from the values of the numbers arrived at. Appears to have been a sort of novelty printing, intended as a bit of light hearted entertainment. The examples of divination include answers to the question will the (nervous, music-hating, iron-heeled shoe-wearing) Ottoman Sultan Osman III "produce a Successor to Muhammad?" Answer: "Un astre souverain hatera vos succes: l'evenement suivra de près." ("A sovereign star will hate your success: the event will follow closely.") Osman III died in 1757, 2 years after this Oracle was published, without an heir.
Spooky fun.